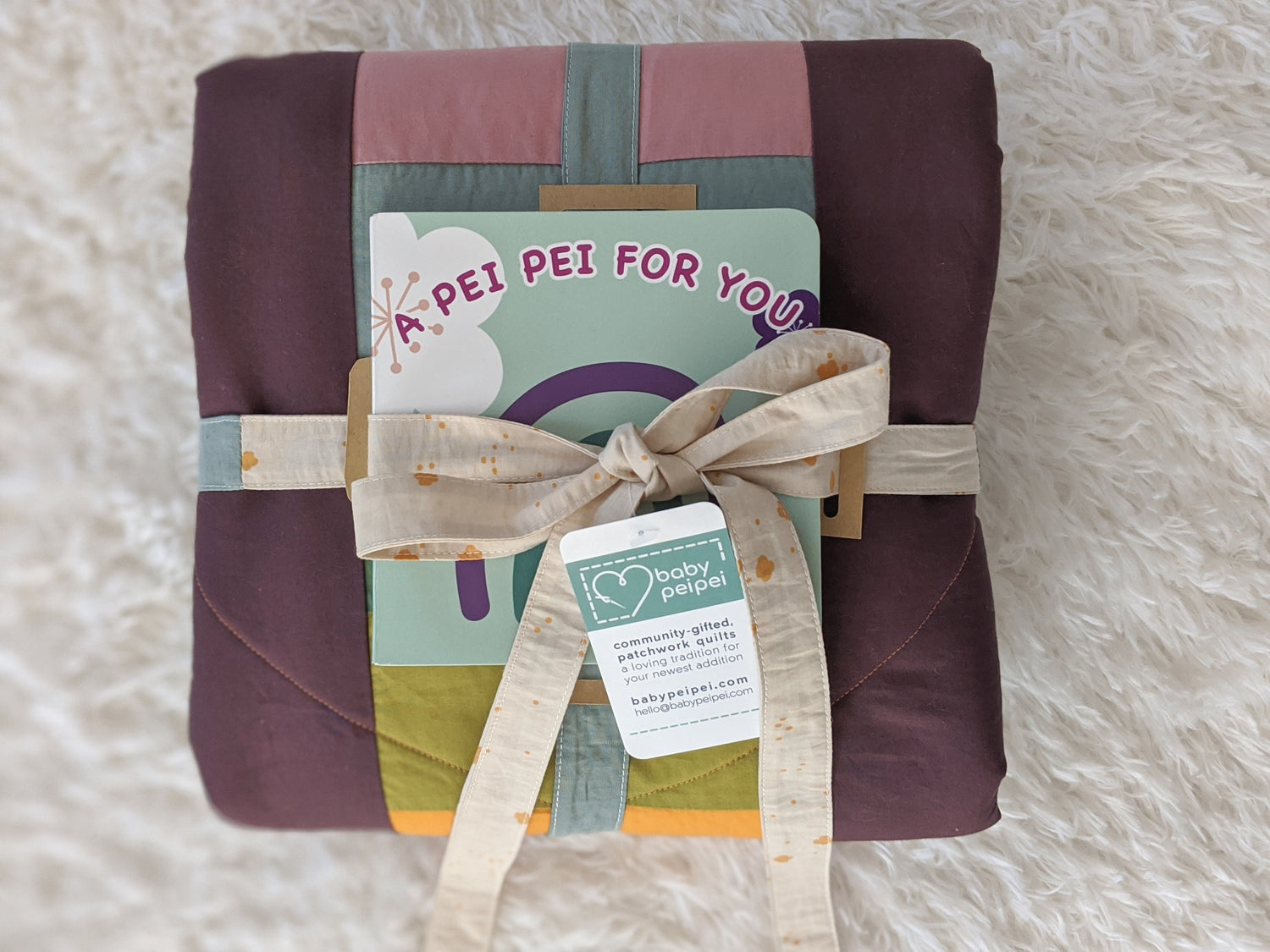 Community-gifted quilts have been around for a long time.
But our group-gifting webpages create a novel experience. As with any new service, you may have a lot of questions. We hope this guide helps and feel free to reach out for more assistance!
Our Products: A Quick Overview
Peipei

-Peipeis are handmade in Brooklyn, NY

-The 100% organic cotton Sherpa or fleece backing with keep you warm in cold weather

-The 100% organic cotton poplin top feels cool to the touch in warm weather

-Peipeis come ready-to-give in a gift box with a card or a custom book

Personalized Webpage & Webpage

-Our unparalleled group-gifting webpages allow family, friends, and community members to buy the quilt's individual patches and submit wishes

-We then compile these wishes, along with images of the patches, into a keepsake board book!

-A book fee of $50 is added to the total and spread out among the peipei contributors.

-A $25 deposit is all you need to get started!

Card

-Our cards are made from 100% recycled paper and printed using plant-based toners

-Leave the inside is blank for handwritten wishes and messages

-Or submit a gift message and we'll attach it inside for you
The Gifting Options: Card or Book
Card

-Cards measure 6" x 6"

-We offer the option to include a gift message

-Gifting a peipei and card is great for small, in-person communities where it can be passed around and signed

-A few examples of such communities are neighborhoods, workplaces, apartment buildings, and congregations

-It can also be used as a guestbook at Baby Showers or other events such as:

Sprinkles, Sip and Sees, 100 Days celebration, Adoption/Family Day celebrations, First Birthdays, and more

Get the Village Excited! 

Invite people to contribute to the community gift by mentioning it on invitations and in other communications

Personalized Webpage & Book

-Gifting a peipei with a custom book is great when Baby's village lives near and far

-Webpage and book personalization options are available when you order your peipei

-Within 2 business days, you will receive a $25 gift card, the URL to your peipei's webpage and a password to ensure only Baby's village has access

-The book fee is added to the total price and is only $1.00-$1.75 extra per patch!

-Board books are made in the USA and comply with CPSIA and ASTM regulations

Sharing is Caring!

Share your webpage's URL across social media networks, on invitations, and list it on registries. You can also ask Baby's village to contribute to the peipei in lieu of cards
The Backings: 100% Organic Cotton
Fluffy Sherpa / Cream

At 600 grams per square meter (GSM), this Sherpa is our thickest.

The organic cotton pile is fluffy, sheep-like, and incredibly soft.

Furry Sherpa / Pacific Blue

425 GSM of cozy, organic cotton.

The pile in this Sherpa is soft and shaggy thanks to the long individual strands.

Furry Sherpa / Butter

Same furry Sherpa, but in a pale yellow.

Sweatshirt Fleece / Cream

At 320 GSM, our organic cotton sweatshirt fleece is lightweight but packed full of snuggles!
Made by Hand in Brooklyn, NY

Organic and Eco-Consious

Meets CPSC Requirements